Personal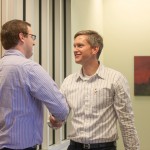 As with other tax service providers, we help our clients find ways to save money on their taxes, but we also go a step further and add our signature personal touch. We understand that there needs to be a certain level of trust in order for our clients to feel comfortable sharing their financial information with us, which is why we take the same approach with our personal tax services that we do with our business services. Rather than just looking at our client's tax documents, we conduct personal interviews that allow us to better understand our clients and their tax situations. Using this information we help our clients find more deductible items, lower their taxes, and advise them for the future.
Unlike other accounting firms, we at Fox Peterson never ask our clients to sign a contract. We firmly believe that if we can't earn your business and keep your business, we don't deserve it. Additionally, because every tax situation is different, we do not charge a flat-rate for our personal tax services. Our prices are fair and affordable, and our goal is to save you more money than we charge.
Business
At Fox Peterson, we are experienced with the ins and outs of running a business. We have been there and we understand, which puts us in a great position for giving advice. If you have been contemplating doing something new with your business, we can help you make the decision that will give you the highest likelihood of success. We offer a range of tax services, each designed to meet the needs of your business and save you money.
We believe that if we can't earn your business and keep your business, we don't deserve it so we will never ask you to sign a contract. We also understand that when it comes to businesses, every tax situation is different and therefore we do not charge a flat-rate for our services. We will take an in-depth look at your business and give you a quote based on your accounting needs. Our prices are always fair and affordable, and our goal is to save you more money than we charge you.
Contact us to learn how we can help you today.
Accounting Services
Our accounting services involve financial statement preparation and payroll services. We can direct your company in all accounting functions of the business and provide timely financial information for your small business.
Our accounting services include:
Preparing financial statements
Advising how to make the financial statements a useful tool in managing the business
Processing payrolls, employee checks, and tax filings (941, W2s, 1099s,SUTA, FUTA).
Aiding in accounting software selections and processes.
Creating with the client an efficient accounting information system designed to meet the needs of the business owner.
Cloud-Based Accounting
What is cloud-based accounting?
Cloud based accounting allows us to share accounting information with our clients in real-time. We house the accounting application (ie. QuickBooks) onto a virtual "cloud" server. Then as long as you have an internet connection, you can connect to your business' financial information from anywhere in the world through your cell phone, laptop, iPad, or any number of other devices. All accounts are subscription based which means that for a small company with few transactions, monthly fees are very inexpensive. And as your company grows, you can upgrade quickly and easily. Another benefit of cloud based accounting is that you don't need to buy any expensive software or use up your computer's storage, because everything is hosted on an outside server.
How does using cloud-based accounting benefit me?
At Fox Peterson, we use cloud based accounting because it allows us to work on an even more personal and efficient level with our clients. At many other accounting firms, a client may drop off all of their accounting information and a month later receive their financials. We believe that if you have to wait a few weeks or even a few days to see your financials, it may be too late to implement a change or make a decision that could have helped your business. Additionally, the ability to see up-to-the-minute information on exactly where and when money is coming and going gives business owners a clear sense of where their business is today, so that they can plan for where it will go in the future. Cloud based accounting is yet another way we empower our clients to make sound business decisions.
Quickbooks
Contact us to learn how we can help you today.
Projections
No one can predict the future, but we can all benefit from planning for it. We at Fox Peterson understand that financial analysis is an important tool that business owners can use to develop plans for improving future profitability. We combine our expertise and experience with a personal understanding of your business to form projections that can help you set and reach your goals while avoiding costly mistakes.
Purchase Decision
Timing
Tax
Tax Planning
No one likes to prepare their tax return only to find out that they have a hefty tax bill that they were not prepared for. At Fox Peterson we like to analyze your personal situation so that we can make educated estimates of what your tax liability will be. This then allows you to plan and prepare for that tax liability throughout the year and not just the day before it is due. Having an accurate projection of your tax liability also allows time to find strategies that may reduce your tax liability over all. Nothing is more frustrating for us than learning that one of our clients, or anyone for that matter, could have taken advantage of tax saving strategies but failed to do so because they lacked the knowledge of what was available to them.
Cash flow
Poor cash management is one of the biggest hindrances for entrepreneurs. Fox Peterson can help you understand the basic concepts of cash flow in order to help you plan for the unforeseen problems that every business faces. We can also prepare cash flow projections to help you develop the necessary strategies to meet your business needs.
Entity Formation
Choosing the right business entity can be stressful, and choosing the wrong one can have disastrous consequences on your taxes as well as your finances. When choosing an entity, in addition to legal and tax considerations, you must consider your specific circumstances. This is where Fox Peterson comes in. We get to know both you and your business on a personal level, which enables us to take every detail of your business and ownership structure into consideration while helping you choose the entity that will be most beneficial to you.
Contact us to learn how we can help you today.